What is Onsite SEO?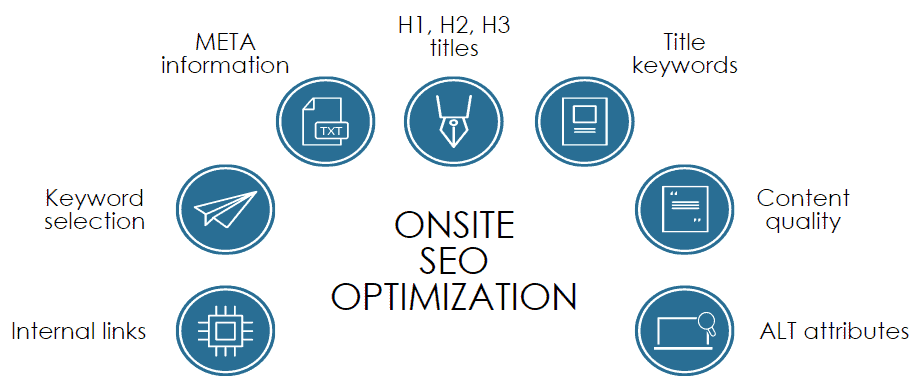 What really is Onsite SEO?
On-Page SEO, otherwise known as Onsite SEO regards optimizing elements on a website to get your site to gain more relevant traffic from search engines alike, this is according to MOZ. Onsite SEO also optimizes the content on the page as well as your HTML code.
The ultimate goal of Onsite SEO is to make it easy for both you and search engines to:
What that webpage is about
Identify that page as relevant to its search queries
Find that page as useful and worthy enough of ranking well on an SERP.
How Onsite SEO relates to the right Keywords:
You have to know who your audience is and what they want to be successful in fulfilling their needs. This is the foundation of Onsite SEO. Keyword representaion is not as important in Onsite SEO. Here's why, you have to understand your users and what they are here for, that is what is most important. Pages that meet this criteria have the following, which will be summarized below.
In-Depth: The content shown has to be sufficient if you want to rank higher.
User-Friendly: The webpage has to easy to follow and easy to navigate. You do not want to leave your potential customers confused, otherwise they will click that X immediately.
Unique: If your site is too closely related to another site, it will be harder to rank your site. Think outside the box and be yourself!
Authoritative and Trustworthy: The information on your site has to be reliable. No fake news here.
Aligned with User Search Content: You have to deliver upon the searchers expectations. The content has to align with the search queries in the order they rank.
Optimizing A Page:
To optimize your page fully, you have to first change both text and HTML on your site. My life long friend Matthew Michuta goes in-depth about HTML code, whether it be positve and negative and gives examples. His page is linked if you want to find out more information What is Onsite SEO? – 365iDigital.
Non-Keywords That Can Add More Website Traffic:
You can say that having the right keywords is huge when it comes to generating more website traffic to your site, but there are non-keyword related tactics that can also generate you more traffic.
Here are some of those tactics:
Loading speed of the page
The page's URL structure
Links that are used on the page
How mobile friendly your website is
Page metadata
Here is a great video on how to do Onsite SEO in action!